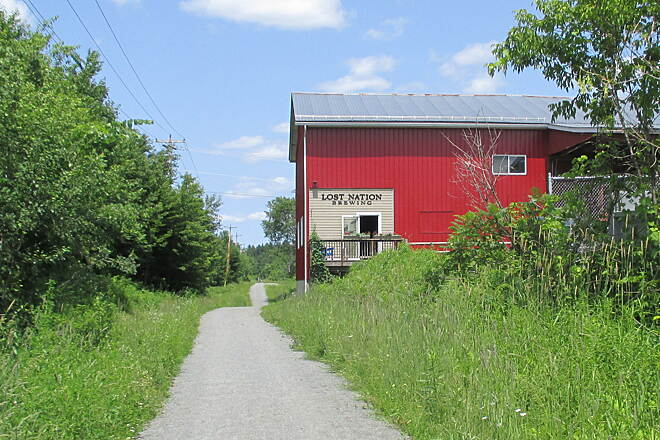 August, 15th
Let's talk about trail access again, but this time lets discuss one of the most popular but overlooked trails in the Green Mountain State, the Lamoille Valley Rail Trail. or LVRT.  Not all of us are hardcore single track mountain bikers or devoted gravel or road riders.  In fact, there are lots of us that just want a casual ride in a unique and safe setting that can appeal to all types of bikes and levels of riders, whether they are on two wheels, or two wheels with training wheels.  Or, maybe you are just on your own two feet.  Regardless if you choose to ride, walk, skip or run, push or pull a baby carriage, trailer, or stroller, the LVRT is a great way to get outside and enjoy nature while getting some exercise and seeing parts of the state that you might have missed.  It also a great option when our local trails and dirt roads are simply too wet.  (Which has been the case a lot this summer!)
The Rail Trail is a year-round trail stretches 93 miles between St. Johnsbury and Swanton. The trail passes through the spine of Vermont's Green Mountain Range, from the Connecticut River to Lake Champlain. Covering five counties and 18 towns, the LVRT is the longest rail-trails in New England. As of July 2023, the Lamoille Valley Rail Trail was fully completed and open to the public. 
But with the July floods, portions of the trail still remain closed.  Specifically, the remaining 43.2 miles of the LVRT between Cambridge and Walden is FULLY CLOSED to all trail users until further notice and must not be accessed by the public. There are multiple active work zones along the closed trail. Anyone who attempts to access the closed trail will be turned back by crews in the work zones.
The remaining closure is due to many different types of damage including complete bridge washouts, complete culvert washouts, and severe slope failures that are blocking the trail or have washed out the trail altogether. A total of 103 sites remain damaged and closed. The Agency has hired contractors for 57 of the sites and is working to get the remaining work under contract for repairs soon.
Among the damaged and closed sites, 16 require civil engineering planning and will be long-term projects with repairs that are not likely to be completed until sometime in 2024. The specific timelines will be dependent on materials, contractor availability, and permitting required to complete the projects.
In the meantime, enjoy the portions of trail that are open, like one of our favorite stretches in Morrisville pictured here that runs conveniently right next to one of our favorite breweries and restaurants, the Lost Nation Brewery.