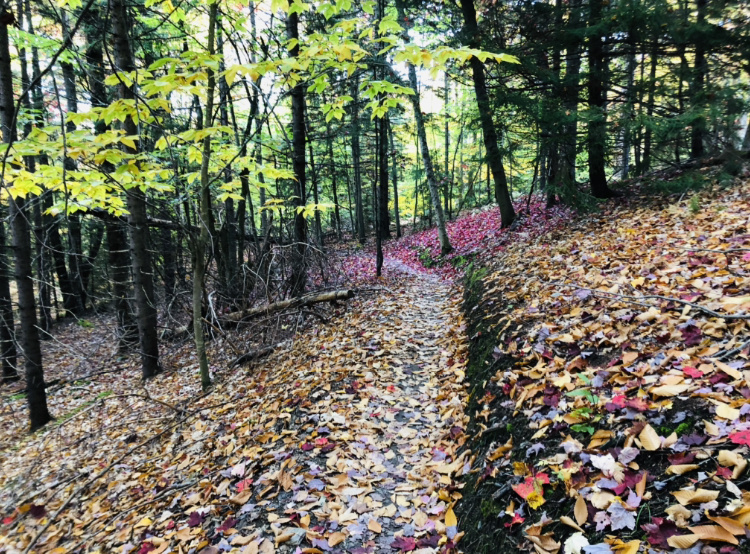 October, 11th
Light rain is falling this morning as it looks like a damp and cloudy day on hand.  This past weekend's rain and wind events have stripped many leaves off the trees, as we can now see many trails covered in red, gold, orange and green. We are now certainly past peak foliage, especially up high, but there is still plenty of color left down in the valleys and around town.
Trail conditions are now leafy but relatively dry except in the usual flat wet spots that don't drain well.  For mountain bikers, traction will be a challenge in spots, as its best to stay seated in the saddle for maximum grip and only stand up if you really have too.  The trails that you know like the back of your hand will now become a bit more challenging as a lot of roots, rocks and of camber elements have become hidden under a blanket of leaves.  Pay special attention to any wooden bridges that you have to pass over as they will be extra slick with added moisture and leaf cover.  Lay off the brakes and take it slow when crossing to ensure you don't wash out.
With cooler temps and fading light these days, the woods are now getting dark by 6:30pm, so keep that in mind when you are heading out for an after-work ride or hike.  Having a head lamp, helmet or handlebar light can pay dividends if you want to try and stretch out your ride or hike in the darkness, or if you happen to have a mechanical on the bike or turn an ankle on a hike, it can be the difference between getting out safely or being trapped in the dark.
The woods will certainly be alive this Saturday with the annual Leaf Blower event happening in Stowe. Lots of group rides for all ability levels are being offered.  Its a great way to meet new riders and learn some new trails too.  If you are looking for a quiet and non-crowded experience on the trails on Saturday, it would be a good idea to take a road trip and ride another network of trails. Katies Falls, Waterbury, and the Mad River Valley come to mind for quick and easy access and great riding.
See you out on the trail, as stick season is just around the corner!
Photo: Gold to red fade in the Trapps Network last night