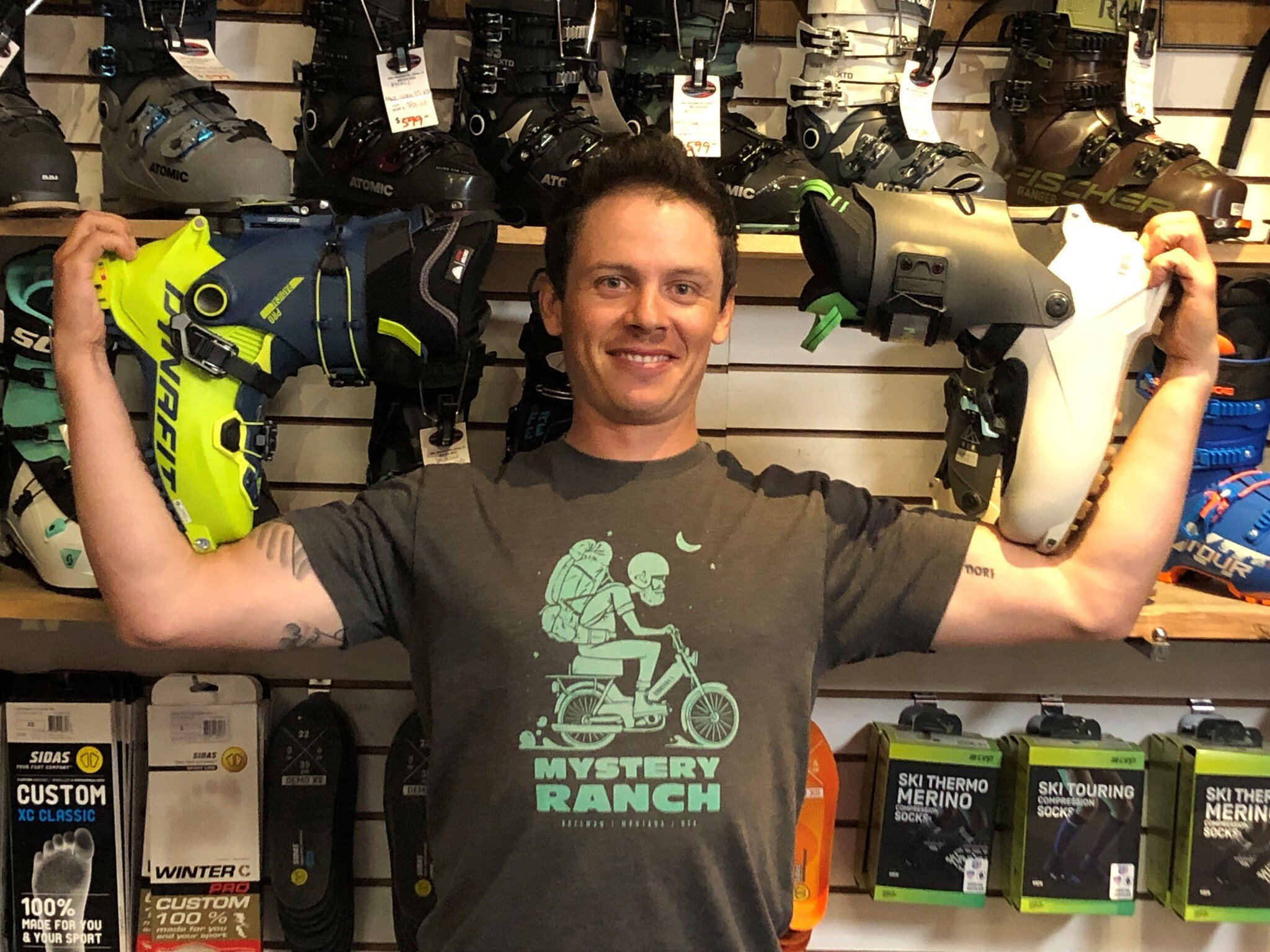 Boot Flex
We all like to flex our muscles at times, but what about our ski boots?  There are all kinds of boot flexes out there, but let's break it down for you in laymen's terms so we can all understand what boot flex is and what's appropriate for your skiing ability level and application.
First and foremost, what does "Flex" mean?  The flex rating of a ski boot is a metric term that specifies stiffness of the boot.  That is when you push your knee forward and press your shin into the tongue of the boot, and how much movement you get going forward out of the shell and cuff. If the boot is too stiff, you won't be able to move the boot very much or really much at all.  This can lead to the boot simply overpowering you and can cause nasty shin splints.   If the boot is too soft you can move the boot forward to easily which can cause the boot to potentially fold, not giving you the proper support and power you need to drive your skis properly, which equates to poor performance. The flex rating is generally between 60 millimeters for beginner skiers and 130 or more millimeters for race or high-performance boots.
Ski boot manufactures achieve their desired flex by using different materials in the construction of the shell, varying in thickness of the material and overall design of the boot.  The number of buckles and strength of the power strap at the top of the boot also plays a role in the flex.  Finally, the stiffness of the inner liner will also influence the overall flex of the boot. 
There is also NO industry standard for boot flex.  A 120-flex rated boot for one brand will not perform like a 120 flex for another brand.  This really comes into play when we are talking about flex numbers and ratings for resort only oriented boots whether we are talking about race, all-mountain, park or freestyle boots.  And it really differs when compared to touring, FREEMO and SKIMO boots to lift oriented boots.
The flex of a ski boot can vary under different conditions as well. The three main conditions are temperature, buckle tightness and age of the boot.
Temperature is the biggest factor in determining how still the boot will perform, particularly when it is cold.  A ski boot's plastic will become even stiffer when outside in the cold, so keep this in mind when you are trying on boots inside a shop.  They will generally be softer to flex than when you get them out for the first time on the slopes.
Buckle tightness, especially those on the cuff and the strap, also influence the rigidity of the boot.  Lastly, age will certainly affect the stiffness and performance of the boot, as plastics break down over time and become softer.  And depending how old your boot is and how many days of use it has, it could become too packed out, become compromised, break or crack.  
Let's break down what the industry numbers are for flex based on gender and ability level:
Women's Boots:
Flex from 60-90: Beginner to occasional skier, recreationalist
Flex from 90- 100: Skis regularly and has a solid foundation and skill level
Flex from 110-120: Expert skier with a high ability level
Flex from 130 and above: Competitive skier or racer
Men's Boots:
Flex from 70-90: Beginner to occasional skier, recreationalist
Flex from 90- 120: Skis regularly and has a solid foundation and skill level
Flex from 120-130: Expert skier with a high ability level (Or "Bigger" guys)
Flex from 130 and above: Competitive skier or racer
Now that you have a better understanding of the number of factors to consider when choosing the most suitable flex for you, its highly advised that you seek out the advice from an experienced boot fitter.  A good boot fitter will make a recommendation of flex based on your height, weight, ability, foot and ankle biomechanics and personal preference. The boot fitter will observe the skier flexing a boot and may make a judgment to either recommend a stiffer or softer flex based on their observation in the shop. 
It's also very important that you know your abilities.  You can only find the ideal ski boot if you are honest with your ACTUAL skiing abilities.  This is not the time or the place to prove that you are worthy enough to drive a race boot or to make an impression that you are an expert skier when you are not. Most importantly, it's critical to find a knowledgeable and trusted boot fitter to help you figure out what flex is best suited for your skiing ability, style and application.  So once again, support and trust your local boot fitter.  They are the most important men or women in skiing today and will make or break whether you have a great experience on the hill than not.