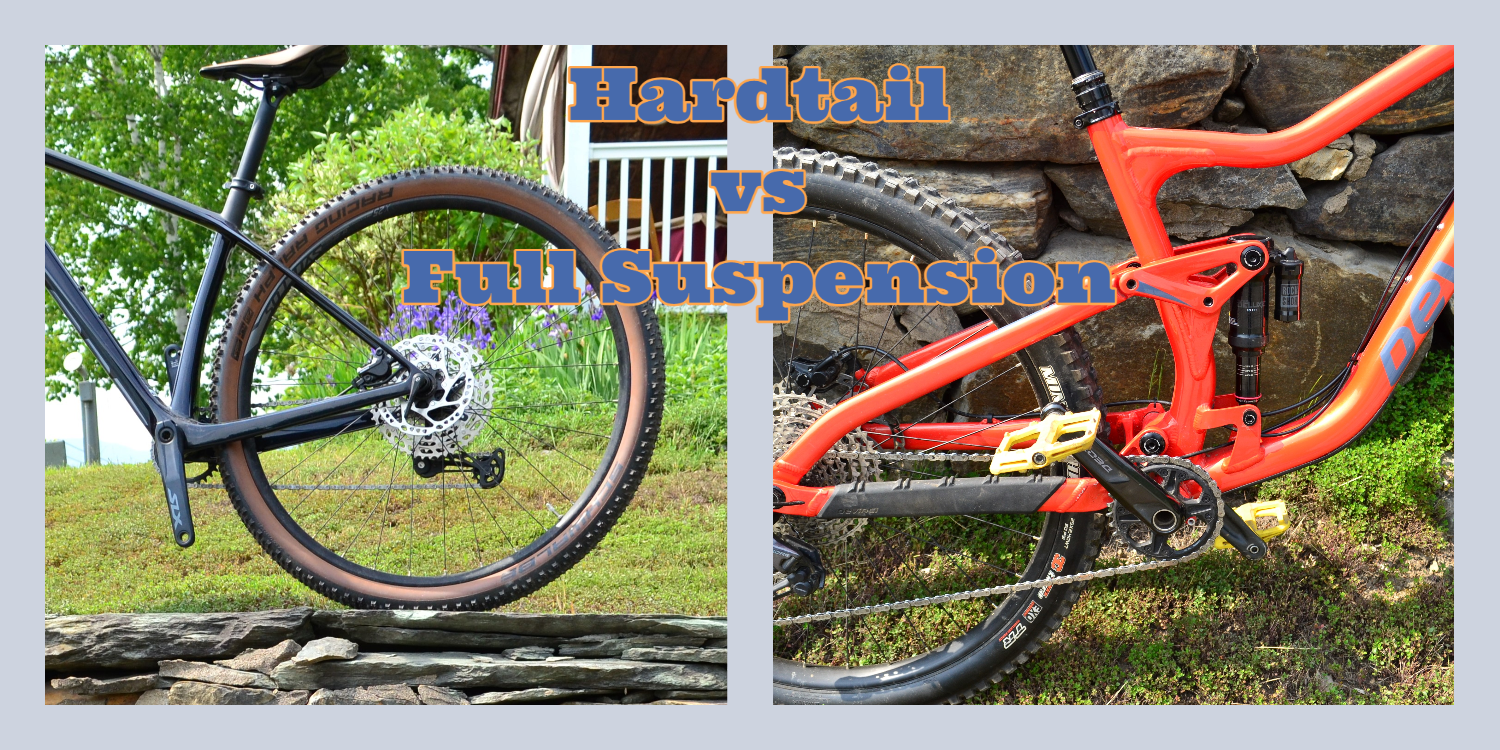 Hardtail VS Full Suspension
There are so many options out there for mountain bikes these days.  Most if not all options are based on two things, budget and the type of rider you are and riding you plan on doing.
Let's start with the type of rider that you are.  If you are just getting started in the sport, a hardtail bike will more than suffice for most.  They will be more affordable than full suspension bikes, require less maintenance and will provide more instant feedback with each pedal stroke that you take.  They are more efficient climbers, but less efficient on the downhills, unless you are riding on very smooth terrain.     If you can learn to ride on a hardtail mountain bike, it will make you a better rider.  Because you only have a front shock on a hardtail, you have to better technique when it comes to riding more technical terrain, meaning rocks, roots, drops and off camber trails. A hardtail also forces you to have better balance, and nail your line choice, as the bike will not suck up mistakes you make like a full suspension bike will.  But with slacker headtube designs these days and more trail worthy geometry, hardtails have made a big resurgence the last few years, and are certainly more than capable for most riders, especially for beginners and intermediates.  Even seasoned and expert riders are going back to hardtails these days due to the technological advancements in frame design, larger travel front forks, and larger and wider wheel sizes.  Simplicity with less moving parts are easier to maintain, as well as more power in your pedal stroke for climbing are just a few of the reasons why hardtails are making a big comeback.
When talking about full suspension bikes, we are obviously talking about bikes with both front and rear suspension.  With more moving parts and more technology built into these bikes, you can expect to have more maintenance required with these bikes.  But the trade of is unapparelled performance, both for climbing, descending and all-around riding.  With great technological advancements in shock technology, frame design and tire sizes, many full suspension bikes climb exceptionally well, with very little or no pedal bob.  And for the downhill, you can ride with more confidence and can go much faster with the front and rear shock taking out all of the rough obstacles underneath your wheels and smoothing out your ride.  You can also take on more aggressive line choices and even if you make a mistake, most of the time the added suspension will suck up your mistakes and turn a rocky, rooty or chunky line into a smoothed out runway.  A full suspension bike also takes the taxing off of your upper and lower body and will give you the ability to ride longer and stronger.  With all of this performance comes an uptick in price.
So, the choice is yours.  There is no wrong decision, it comes down to how much you want to spend, what type of rider you are now and what type of rider you want to be long term, as well as what type of terrain you plan on riding.  Whatever your choice, we have a wide variety of bikes to choose from here at the shop along with the knowledge and guidance to pair you with the right kind of steed that meets and exceeds your riding ability and preferences, along with giving you room to grow performance wise so you don't "outgrow" the performance capabilities of your bike.