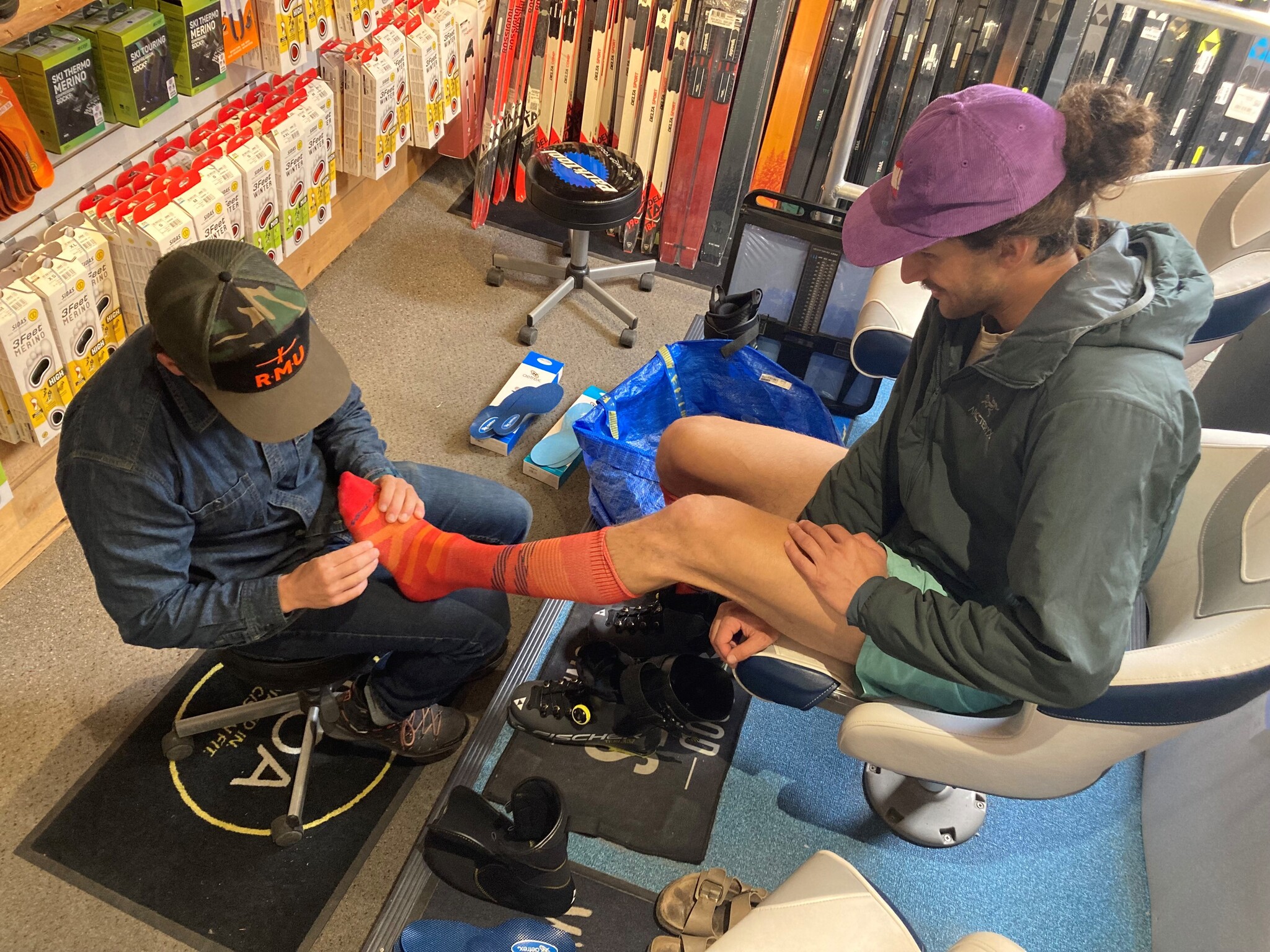 The Boot Fitter- The Most Important Person in Skiing
Their names are Robbie and Mike and they are known locally as the "Boot Wizards." Mike has worked in various ski shops over the decades here in Stowe from the debunked Skiers Shop, to Inner Boot Works and we are now happy to have him here at Mountain Ops for his second season in the Big Red Barn. Robbie has worked at various shops out west and is now in his third year as General Manager here at the shop.

To understand these guys and boot fitting as a craft is to understand the torture of ill-fitting ski boots. It's a torment that turns mature adults into blubbering messes, kids into crying machines and robs expert skiers of their most basic abilities. Ski boots continue to confound the entire ski industry as they remained incapable of creating a technology capable of taking all of the power generated by the leg and transferring it, without too much loss of energy or the feeling of having an appendage rammed inside a meat locker grinder, to the ski itself.

They both believe in the "Primacy of the Heel." The general philosophy in podiatry is that the foots arch is the source of its power. Almost all orthotics, including most custom fitting boot liners, have emerged from this philosophy. They believe that a great ski boot should lock the heel in to place, thereby enhancing the natural stability, enhancing its natural movement patterns and aligning it with the body's kinetic chain.
There is a big difference between working on a typical lift service ski boot and boots for more of a freeride or touring perspective. When you are in the woods skinning for hours and moving through and over terrain and not just skiing laps off your favorite chair, boot fitters need to come up with more intricate and creative solutions that just don't cater to "Ballroom Dance" groomer skiing.

When skinning for long periods of time, you need a different kind of performance from your boots that keep your heel more anchored in so you don't develop blisters. Earn your turns skiers are looking for a different kind of fit and these guys ask the right kind of questions that only true core skiers now. What you are feeling and making sure you leave with the right fit. When they something is going to work it really does, because they have personally experienced it out in the field. Even more impressive is when other shops down the road say just go in and see these guys, they are the best boot fitters around, you listen.

Mike was trained under the watchful eye and tutelage of Mr. Benny Wax, the Obe Wan of boot fitting for decades here in Stowe who is now semi-retired. Boot fitting is a true art form that can't be faked or learned quickly, it takes time, sometimes years to become proficient. It takes intense amounts of training and studying, going to MasterFit workshops and becoming familiar with every type of Master Fitboot feature. From shell and cuff plastics, last, liners, flex and canting alignment just to name a few.

But there is one thing that everyone seems to agree on with when it comes time to buy boots or tweak what you've got, just go see these guys. Make an appointment with us if you are smart, or roll the dice and just walk in.

So of course, when you are in the market for a new pair of boots, or have an existing pair of boots that just are not working for you, go see the wizards. They will meticulously analyze your foots shape, width and other "foot features" along with your alignment before they even look at your existing boot or recommends a new boot for you to try. Sure, if he doesn't know you as a person or as a skier, (And Mike knows just about every local in town) they will ask you some basic questions like what kind of skier you are, what type of terrain you like to ski and what your intended application is for skiing, along with some other questions that may or may not be appropriate to skiing.

But the next time you see these guys remember this, while everyone was stuck at home during Covid, they were the ones working with people's feet with a mask on hoping they would not come down with the virus while being inches from people's faces and certainly touching sweaty and stinky feet regardless if you were a Covid carrier or not. They are a front-line worker in a line of work that is not considered "front line," but is more like the lifeline between you and your overall skiing experience. A great boot fitter gives piece of mind and one thing that all skiers want- confidence that their ski boots will feel good and transfer that power from the boot, to the binding to the ski, that perfect interface that all skiers are searching for.
Whether it be blowing out a boot to deal with bunion issues, taking up more space for a boot that you bought from the "Other Guys" that was not fitted properly, building a custom foot bed, or simply replacing a buckle or power strap, you should be off to see the wizard.

In closing, remember support your local ski shop and especially your local boot fitter. Their knowledge and expertise are invaluable and irreplaceable in a day and age where on-line shopping rules, Zoom calls, Face Timing and social media are the norm and certainly can't replicate the one-on-one, face-to face time you spend with the most important man or women in skiing, the Boot Fitter.
Picture: Robbie custom fitting a Fischer Touring boot for Noah Dines