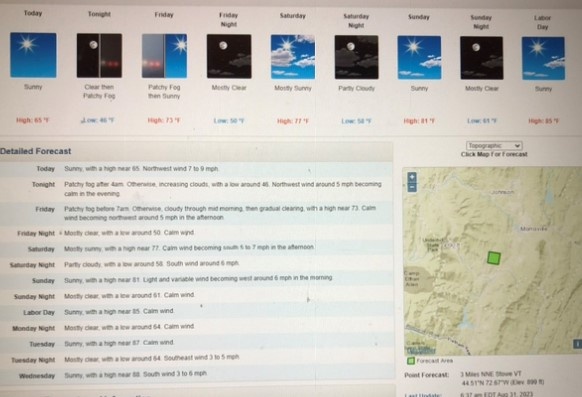 August, 31st
The last day of August brings us hope and optimism as summer is winding down as we look towards fall.  Have you looked at the extended forecast lately?  High pressure has finally taken over and the holiday weekend looks stellar.  Sunny skies are forecasted through Wednesday with temperatures getting summer like in the 80's next week.  This is the week to take those left over vacation days, play hooky from work or just lie back and take in all of that Vitamin D that we have all been craving.  Hit the trails, dirt roads, go for a big hike or hit the many lakes, rivers and streams for one last dip in the drink. For the first time all summer, the ground can really begin to dry out and not just try to recover from consistent weekly rain deluges and take on their best form heading into the foliage season.  And that is a welcome sight as we all know that it has been the wettest summer that we all can recall for quite some time, actually record setting in some areas.  
Speaking of stats, some impressive but quite depressing numbers to digest from the summer that never was- Since July 1st in central Vermont, it has rained 76% of the time and next door in New Hampshire, Mt. Washington set a new record for the month of July with 17.1 inches of rain.  From an agricultural perspective in the Green Mountain state, 38% of farmer's crops were lost for wholesale and retail markets, while 35% of animal feed crops were lost as well, on top of the over 18,000 damaged acreages lost to flooding.   All of these totaling millions of dollars in lost revenues for farmers and their customers. 
But enough bad news, Vermonters and New Englanders in general are a strong bunch, always recovering and banding together to turn lemons into lemonade.  Even though we have endured a tough summer weather wise, there is always optimism and a general feeling that things will turn around for the better.  And it looks like Mother Nature is finally going to rewards us for hanging in there and believing in better days ahead. One thing is for sure, when it's sunny and beautiful out, Vermont shines as one of the most special and unique places to be.
So happy Labor Day weekend in advance from all of us at Mountain Ops as we welcome in September and can hopefully finish on a high note with an Indian summer that we all certainly welcome and deserve.