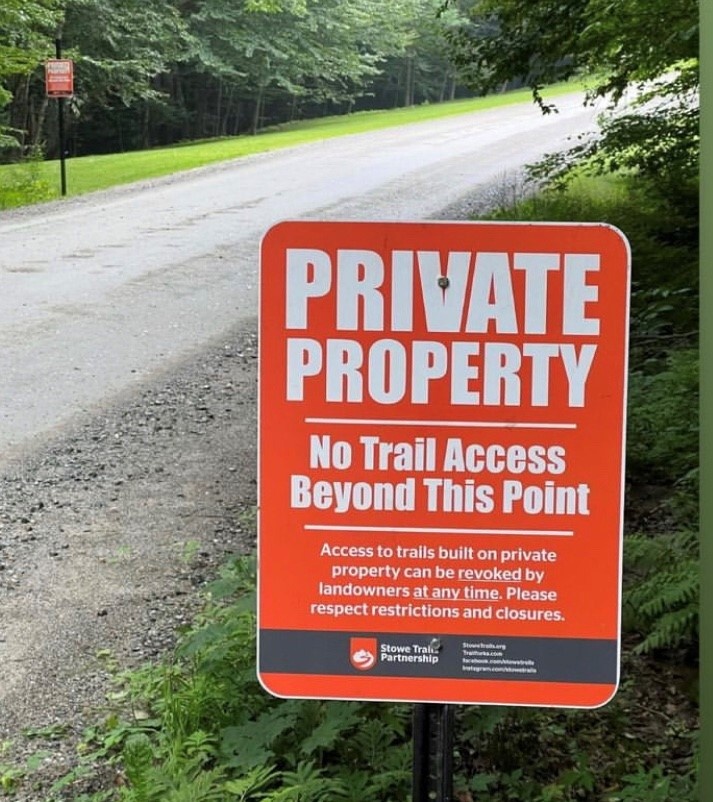 August, 9th
After another rainy day yesterday and light rain falling overnight, all trails remain closed once again.  We just can't seem to get out this wet and wild pattern that we have been experiencing since early July. There is a lot of standing water on the trails, let alone all of the slick roots and rocks out there.  Respect the trail closures please so they can begin to dry out properly.
And speaking of trail closures, we are passing along a message that many of you have seen again and again recently on many social media platforms over the past few weeks. NOT regarding trail closures, but regarding NO TRAIL ACCESS to a specific private road that exits on private property.
This one hits particularly close to home and our shop, as we are talking about the Adams Camp network and specifically, the Covered Bridge Condominiums private road that is just past the Haulapalooza entrance sign on Brook Road.  This is the most direct route from our shop to access Adams Camp that we ride regularly.  We know that this trail is a tough and challenging climb for both the novice and advanced rider.  Many of you are choosing to bypass riding up the single track trail and biking on the condominiums private road to cut out a good portion of the single track climb.  This is an absolute no-no! I have witnessed this myself from both locals and visitors alike on rides throughout the summer.    
If we continue to push the boundaries of strict rules that have been put in place, we will lose access to Haulapalooza for good.  This is a critical connector trail that gets you right into the heart of the Adams Camp network and offers easy access right of the Stowe Rec Path too.   Yes, its tough climb, but its challenges like these that make the sport of mountain biking so great. With some practice and determination, you can actually do things on a mountain bike that you would never think were possible like making a tough climb, or cleaning a skinny or teeter totter.
Don't cut corners or break the rules and take the easy way out.  You are all better than that, especially locals who are in the know.  Seasoned local riders all have the ability to ride up Haulapaooza.  If you are just starting out with the sport or just don't have the fitness, take your time and take the necessary breaks that you need to make the climb.  And if you are coming from the other direction and taking Haulapalooza downhill, stop and pull over and let the uphill riders keep their momentum as they are doing all of the hard work as you flow without pedaling down each and every berm and jump.  Call it old school, but uphill riders have the right of way on two-way trails in my opinion. 
Bottom line, get into a lower gear and grind it out.  It will make you a stronger and better rider for the  long run and will save us confrontations with private land owners.  Most importantly, it will continue to allow us to use Haulapalooza and take the stain away that some people still have with mountain bikers in general because of this type of behavior. The more we are in good standing with the local community, its residents and businesses, the more funds we can raise for new trails to be built to continue to expand our trail networks. It also allows us to continue to raise money and gain membership to help pay for trail work and yearly maintenance to the existing trails that we count on so much.
Your actions directly impact the future of mountain biking here in Stowe and across the green mountain state in general. Be a good steward of the sport that gives you so much pleasure and joy in return.