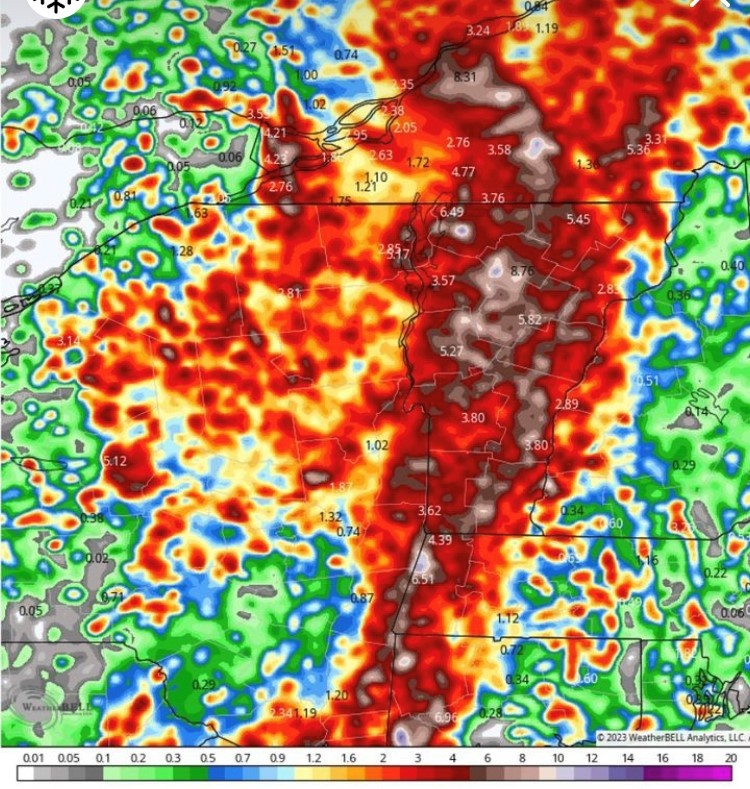 July, 10th
It's a very wet and rainy Monday.  Forecasts all calling for large amounts of rain today, tonight and tomorrow.  The rivers are raging and are reaching dangerous flood levels as I write this.  Moscow Road has just closed due to flooding.
Living in Nebraska Valley and on the Miller Brook River, my mind wanders back to Hurricane Irene not too long ago when Vermont received some very serious damage from flooding and my family was actually evacuated for a night from our home when the fire department came knocking on our door and said it was not safe to be there. Luckily when we returned the next day our house was spared thanks to a retaining wall that was made to help protect our house from flooding events. Many local roads were washed out, homes were damaged, and entire towns like Waterbury and southern Vermont towns close to Mt. Snow and Killington were devastated.  Fingers are crossed that this does not happen again over the course of the 24-48 hours.
With all of this water, all multi-use trails are now closed until further notice and all outdoor activities in general are now put on hold.  With that being said, it's a good time to take a look at your gear and see where it stands as we are just about halfway through the summer season.  
For starters, how is your trusty rain jacket holding up?  Is it still keeping your dry when it counts the most like today? Check to see if the Gore Tex needs a Nick Wax treatment to bring it back to life, or a Gore Tex patch to repair a tear, or an entirely new jacket if your jacket is just too worked and tired from serious use.
The same should go for all of your camping gear- Tents should be looked over for small tears and rips and should be repaired.  Fuel stoves should be tested to see if they are in good working order, sleeping bag zippers should be looked to see if they work smoothly.   The same would go for all of your back packs, hip packs and bike bags and saddles.
And speaking of bikes, it's a great time to address all of that maintenance that you have putting off so far this season. From wheel truing, shock and gear adjustments, to head set and bottom bracket greasing to take the squeaky noise out of your ride. 
We have everything you need here at the shop to help bring all of your gear back to life, or create a new beginning with something new and shiny from gravel and mountain bikes, to rain gear, tents, sleeping bags and camping supplies. 
The sun will shine once again sometime soon and things will dry out eventually as they always do.  Make sure you and your gear are ready to take on your next summer adventure with proper maintenance and upkeep.  We are here to help.
Photo: Vermont's radar blip for today