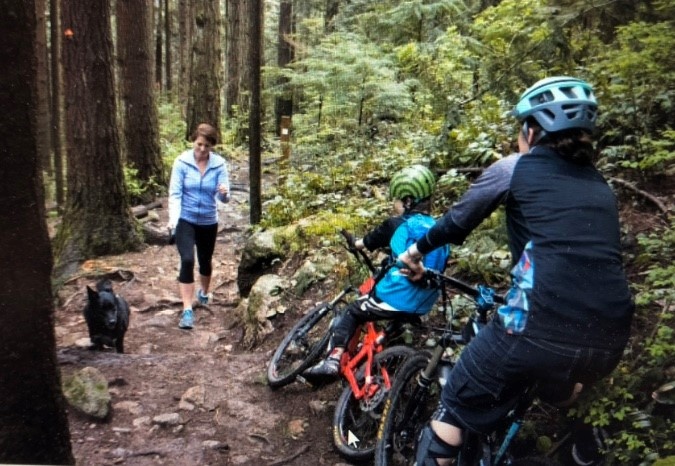 July 4th
Happy 4thof July! Independence Day is here and that means more crowds than normal in tourist towns like Stowe.  With that being said, everyone should have some extra patience when driving on the road when approaching bikers, or riding your mountain bike on popular trail networks or multidirectional trails.
Let's first start with vehicles and bikes on the roads, specifically when you are driving. When driving, you should maintain at least 3 feet of distance between your vehicle and a bicycle on the road.  Make sure you turn cautiously and be mindful of an approaching cyclist.  When turning right, make sure you check you side and rear-view mirror to see if a cyclist is approaching you from behind.  And it doesn't hurt to turn your head either as there could be a blind spot.  Now the signals of a biker.  It's a bicyclist's responsibility to signal their intended movement and as a driver, you must react accordingly as you would for a brake light or vehicle turn signal.  When driving, remain at consistent speed and drive smoothly with no erratic turns, especially if you are trying to pass a biker. Lastly, remain patient, ease your temper and remember that both vehicles and cyclists have the right to be on the road together.
Bikers need to ride predictably, avoid any sudden turns or swerves that might cause the driver to react without warning. Always assume that you cannot be seen and make sure you use your hand signal well in advance of making your turn so vehicles can be prepared.  If you are riding on busy streets with parked cars like downtown Stowe, maintain a slow pace ad keep a watchful eye out for car doors opening or unexpectedly opening that will catch you off guard. 
For mountain bikers riding single track on a muti-directional trail, the general rule of thumb is that the uphill rider has the right of way.  Remember, they are doing all of the work while trying to ride uphill, especially if they are trying to clean a technical uphill section where momentum and speed is critical. Downhill riders should stop and pull over to the side of the trail and let the uphill rider go by before heading down.  If you are trying to pass someone on the uphill, give a shout and ask if you can pass at the appropriate time where there is room on the trail to pass.  Don't crowd someone by staying glued to their rear wheel and making them feel pressured.  No one likes to feel pressured when riding, especially if you find yourself behind a beginner or someone who is not in the shape that you are.  Remember, we all had to start somewhere in the sport, be kind, patient and give that rider in front of you encouragement, particularly if they are young or just getting started with the sport. Remember, it's not a race, and if it is, DO NOT ride on popular trail networks like Cady Hill if you are trying to set a personal Strava record during a holiday week when trails tend to be the most used and crowded.  
Lastly, lots of mountain bike trails are multi-use trails.  They are used by bikers, hikers, runners and dog walkers.  If you come across a hiker, runner or someone walking their dog, pull over and let them pass.  Say hello, wish them a nice day and then carry on with your ride.  Treat people with respect and treat them how you would want to be treated if you were in their shoes. 
Share the road, share the trail and most importantly, share the stoke!  We are all in this together.