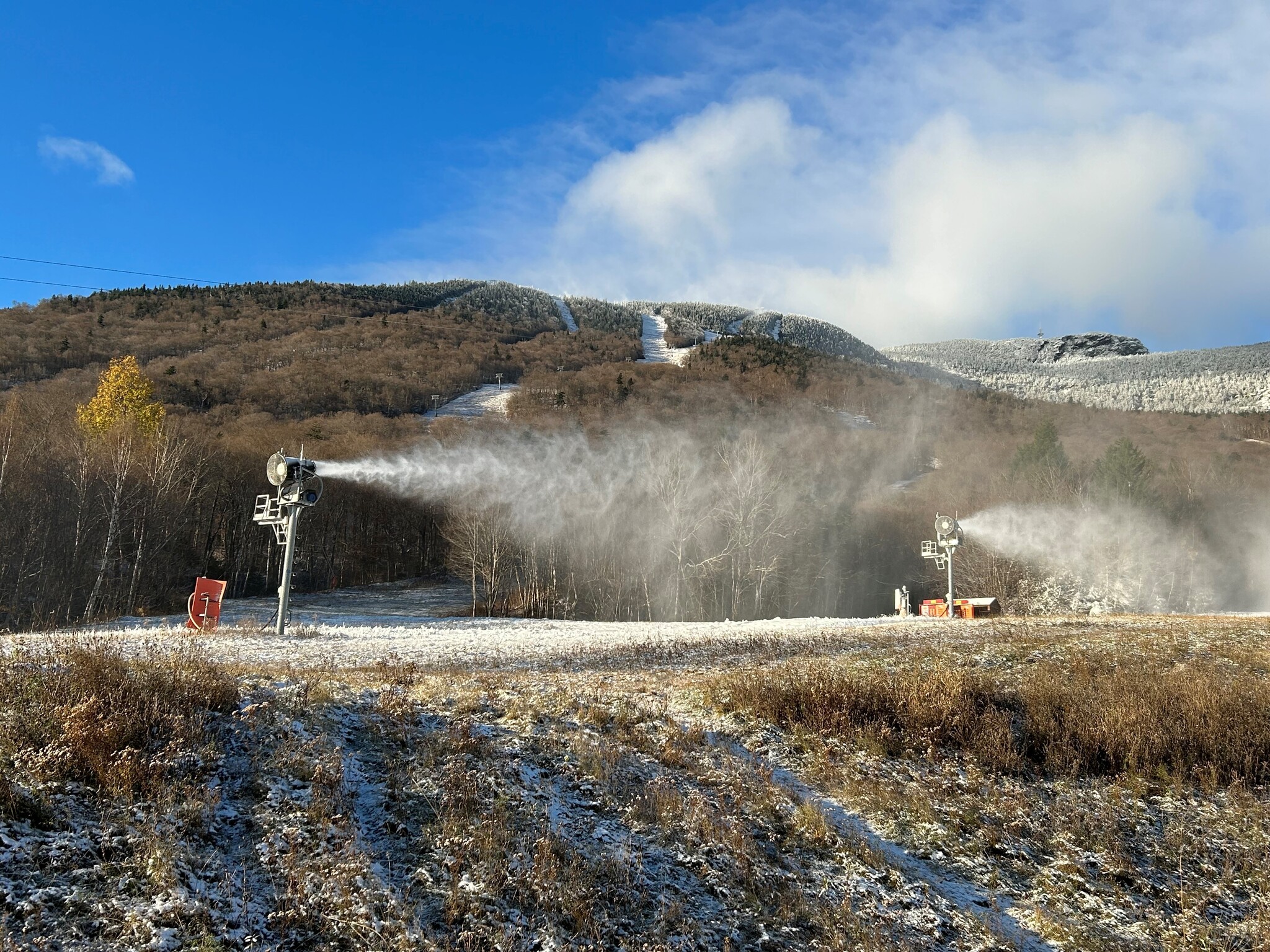 November, 2nd
It has been a week of "firsts" so far.  For starters, we got our first official frost of the season earlier in the week, coming in a bit late for a typical Vermont fall.  We were actually one day off from breaking a record for the latest frost ever, which would have been October 31st.  That's a record that I am glad we did not break. 
Another first was we got our first snow in town of the season yesterday, although not really sticking to the roads made for a very pretty site.  There is nothing like seeing those flakes fall from the sky for the first time each season and I don't know about you, but first flake fever hit me hard yesterday.
Killington also becomes the first Vermont resort to open for the season starting tomorrow on Friday, November 3rd at 10am with their passholders only appreciation day accessing terrain in the North Ridge area.  The resort opens to the rest of the public on Saturday.
It was the also the first time for the 23-24 season that Stowe Mountain Resort officially started making snow on the opening routes and in the base area at Mt. Mansfield.  Anticipation is now really starting to build for the big hill opening in about 3 weeks weather permitting.  The resort also received it's first light snows yesterday from top to bottom on the trails. And as usual, reports from the field came back that some more of the "usual suspects" were up there skiing what they could the last few days to get yet another day in under their belts. 
As far as trail conditions go, with freeze/thaw cycles now being the norm for the rest of the week, conditions are best to ride in the mornings when the ground is firm and frozen and things are grippy.  Although a bit nippy in the mornings, when dressed properly, the riding still should be pretty good.  It is also advised that when it does warm up, the ground becomes very soft and mushy and you should stay off the trails to prevent further damage.  This goes for all biking and hiking trails.
Lastly, remember that this Saturday evening to turn back the clocks as we fall back one hour and gain an hour of sleep for Sunday morning wake up. 
Ski season is upon us and the stoke is high!
Photo: Snow guns are firing in the Mansfield base area this morning.