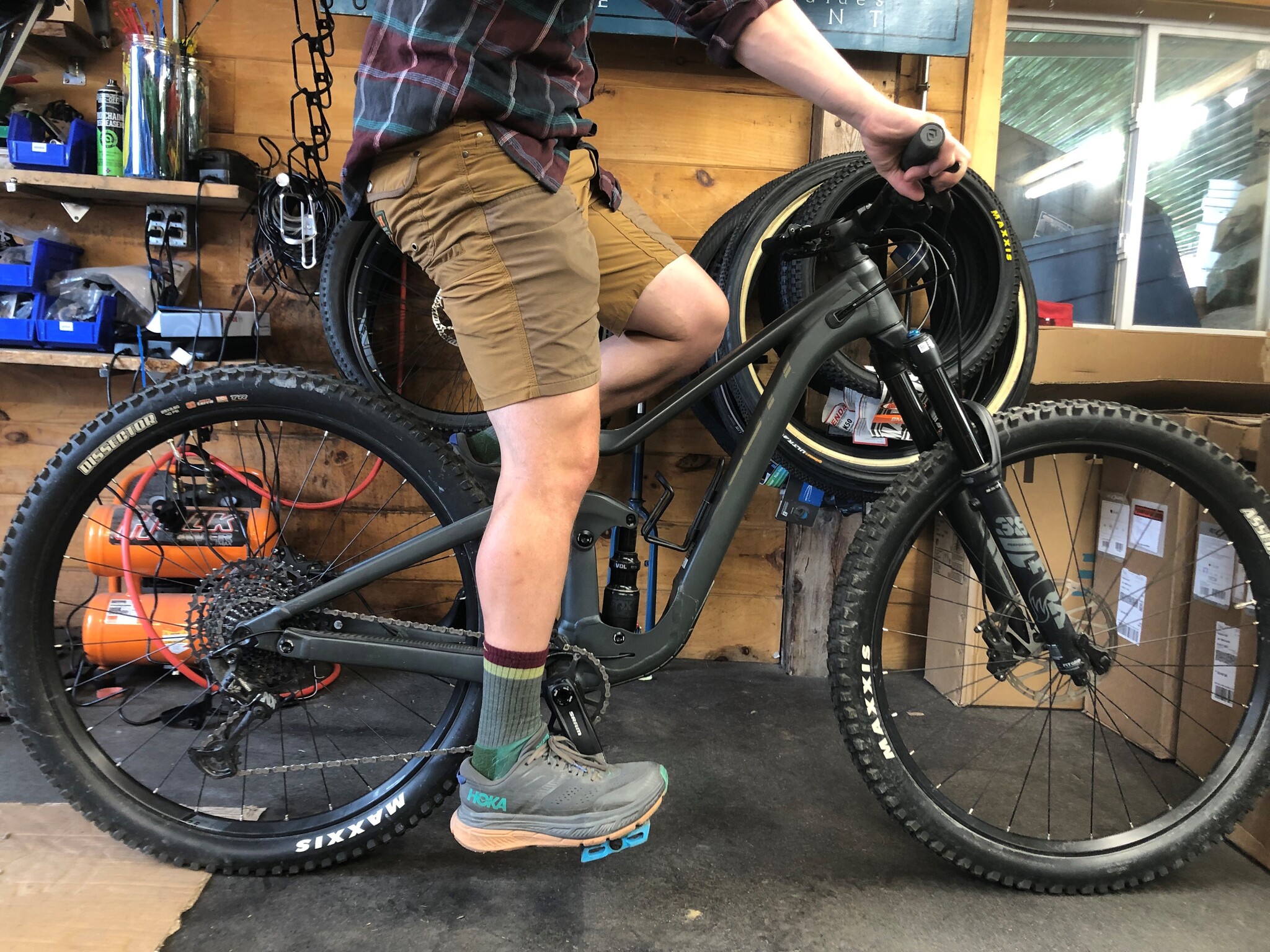 Proper Seat Height
One of things that drives me crazy is seeing either cyclists on the road or on the trails struggling with their riding because their seat height is not properly set.  There is nothing like seeing a rider with their knees in their chest because their seat is set to low, which can put a lot of stress on your knees and rob you of proper pedal power. If you find yourself having to stand up to get any type of power, this is another sign that your seat is too low. If the saddle height is set too high you will be unstable, find yourself reaching for the pedals and your hips will be rocking back and forth too much.  It's of one of the little things that can make a big difference in how efficient your pedal strokes are and how comfortable your riding experience can be. 
When setting up your seat height, all you need is a wall and multi-tool or Allen wrench to set the proper height, or by releasing your quick release lever by hand if that's what you have on your bike.  The proper saddle will have you with a 30 to 35 degree bend in your knee at the bottom of each pedal stroke.
As you stand next to your bike, raise or lower the top of the saddle next to your hip bone as a starting point. Each seat post is marked with a minimum insertion line. (If you are raising the seat post, make sure not raise to it higher than this line.)
Next get close to a wall, straddle your bike, squeeze the brake and pedal backwards a few times, stopping when one leg is at the 6 o'clock position.  With the ball of your foot on one pedal, straighten your leg so your knee is locked out.  Your heal should fall 1 to 2-centimeters below the pedal. If you can't fully straighten your leg, raise the saddle.  If your knee is locked and you are still stretching to reach your pedal, lower the saddle. (It helps to have a friend with you so he or she can take a look for you to see where you are at) Make sure you are making small adjustments as you go.  Lastly, line the nose of the saddle up with your top tube.  With the saddle properly set, you should only be able to touch your toes to the ground when you are sitting on the bike.  If you can put your whole foot on the ground, your seat is too low.
Your final test will be going for a real ride.  Carry that multi tool or Allen wrench with you so you can make adjustments on the fly if you need to.
With your saddle now at the proper height, you will get more power, a lot more comfort and be able to rider stronger for longer. It's the little things on our bike that can certainly make a big difference and your seat height should never be overlooked.