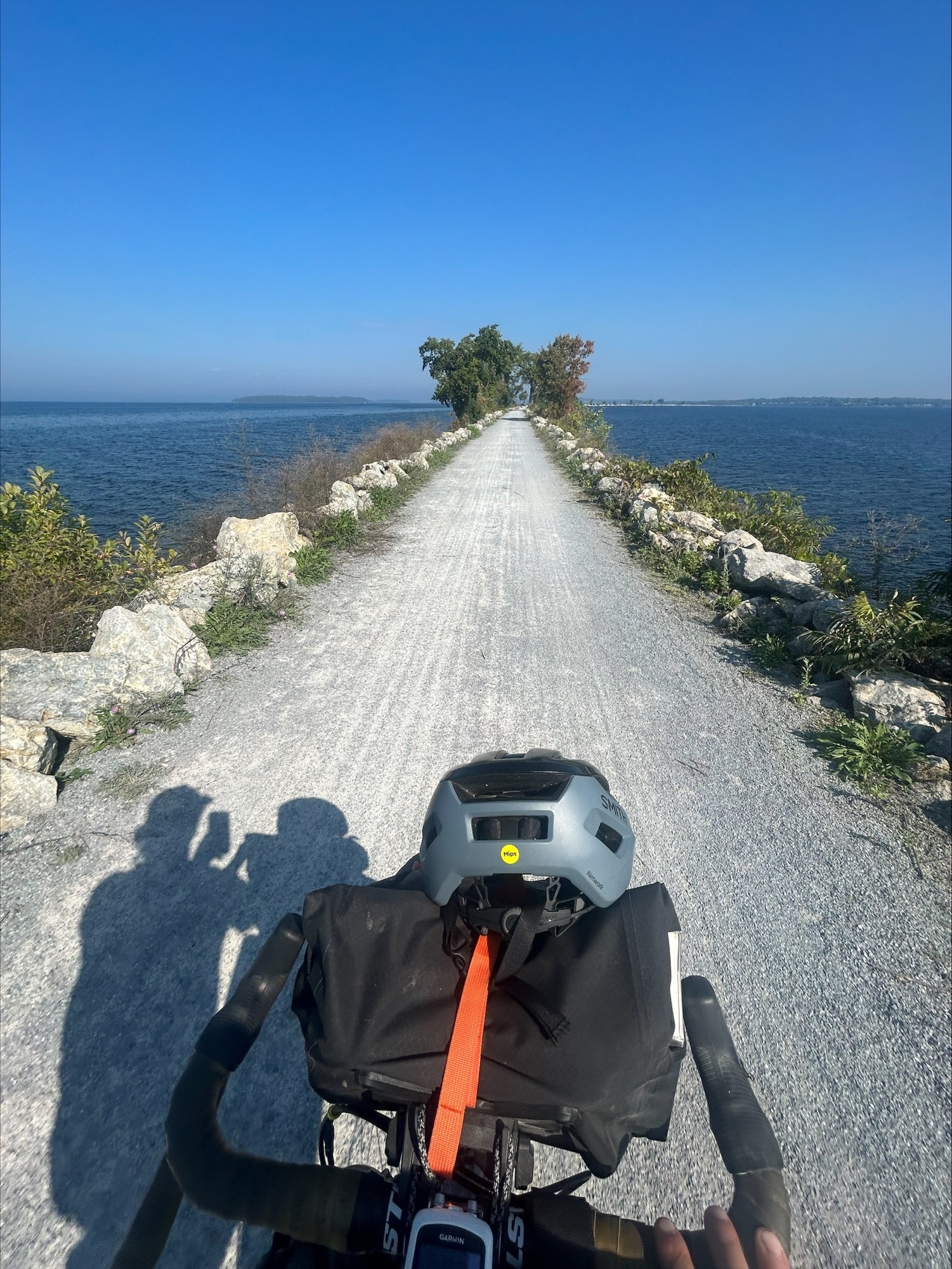 Trip report: Island living in Vermont
. We all need an island vacation every once and a while. I didn't have enough time or vacation days left to make it down to the Bahamas though. So I pivoted and went to our Vermont islands. I started in South Hero and worked my way north trying to cover as many back roads as I could. This trip was 115 miles with a total of 3,200ft elevation gain. I stopped in as many general stores, state parks, breweries, roadside bakeries, and birdhouse forests (I'll explain later) as I could. This report will consist of tips, some must-see locations, but mostly ratings of general stores. 
First things first, if you do go on this trip make sure you check the cosway bike ferry schedule. Mid-summer it should be running every day but in September the schedule becomes limited to Friday/Saturday/Sunday.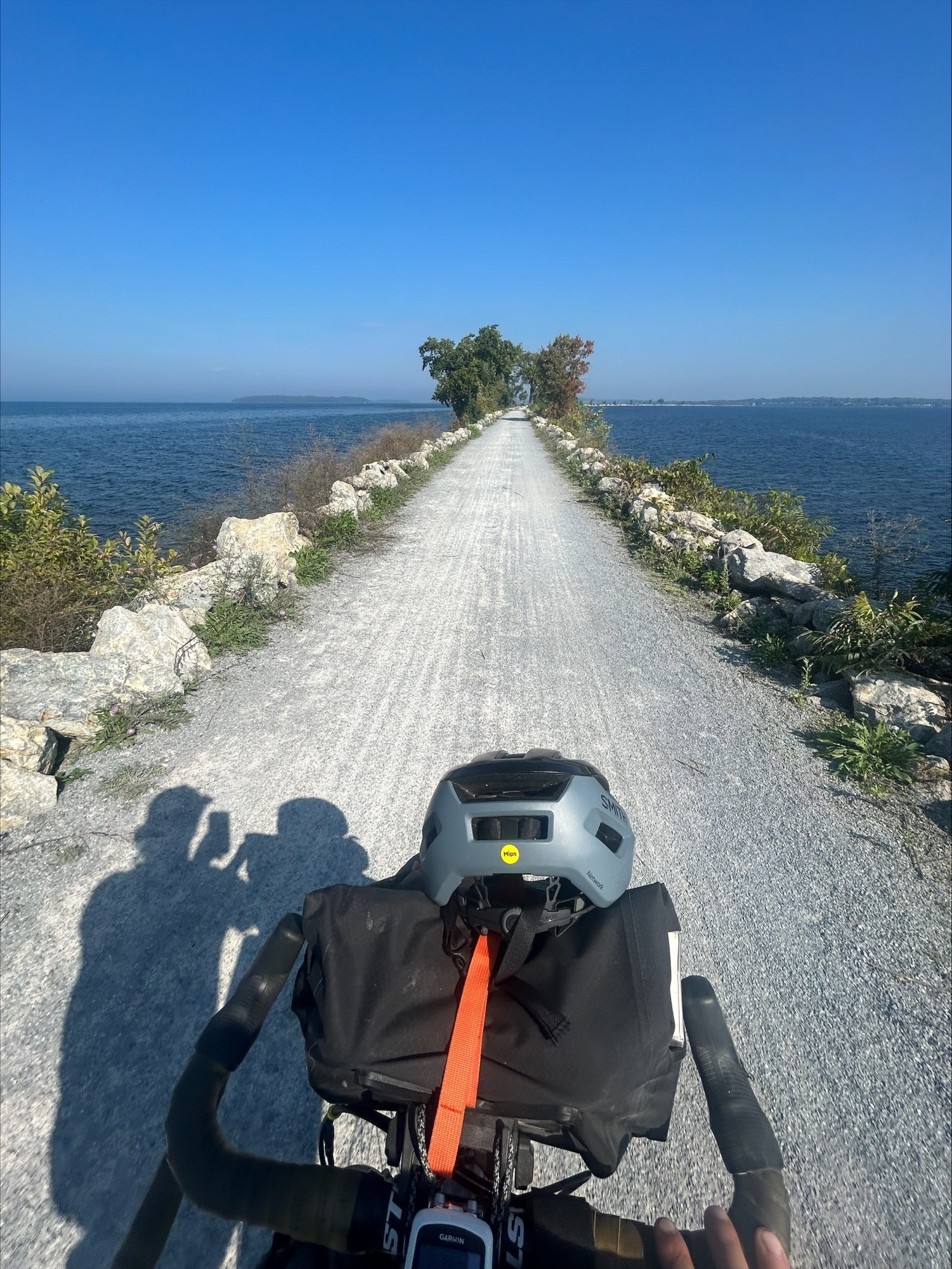 The cosway is a great way to start the day off. Beautiful views of Lake Champlain all around you, hopefully a nice cool breeze, and nice and flat to warm up the legs. After the bike ferry, you are finally on Island time. It's not long until you come to your first supply stop in South Hero. I did not stop at the Two Hero Brewery but I will definitely be back. Now the next part of the trip does have a decent bit of miles on Route 2. The shoulder on this stretch ranged from 2-4 feet wide with medium traffic. As soon as the roads allow I jump onto a side road that brings me closer to the coast. Now I knew this ride was going to be a lot less hilly and a lot more pavement than I am used to. At this point in the ride, that fact really started to hit me. There were stretches where you could just see forever with no turns or hills in sight. I have to say my legs appreciated it.
    I then start crossing over to North Hero and come across my first must-see stop, the Hero's Welcome general store. As someone who makes it an absolute necessity to stop into as many of Vermont's general stores as I can, this one was high up on the list. Hero's Welcome did not disappoint. Just like every great general store they of course had some amazing homemade food, and a deep beer and wine selection, but what makes them great and not just good is everything else. They have almost every house knick-knack you need. They have a huge selection of books fiction and nonfiction. I got a bit sucked into their history book section. A great gift section with all your classic Vermont gifts. The store just seemed to keep going and had something fun to look at around every corner.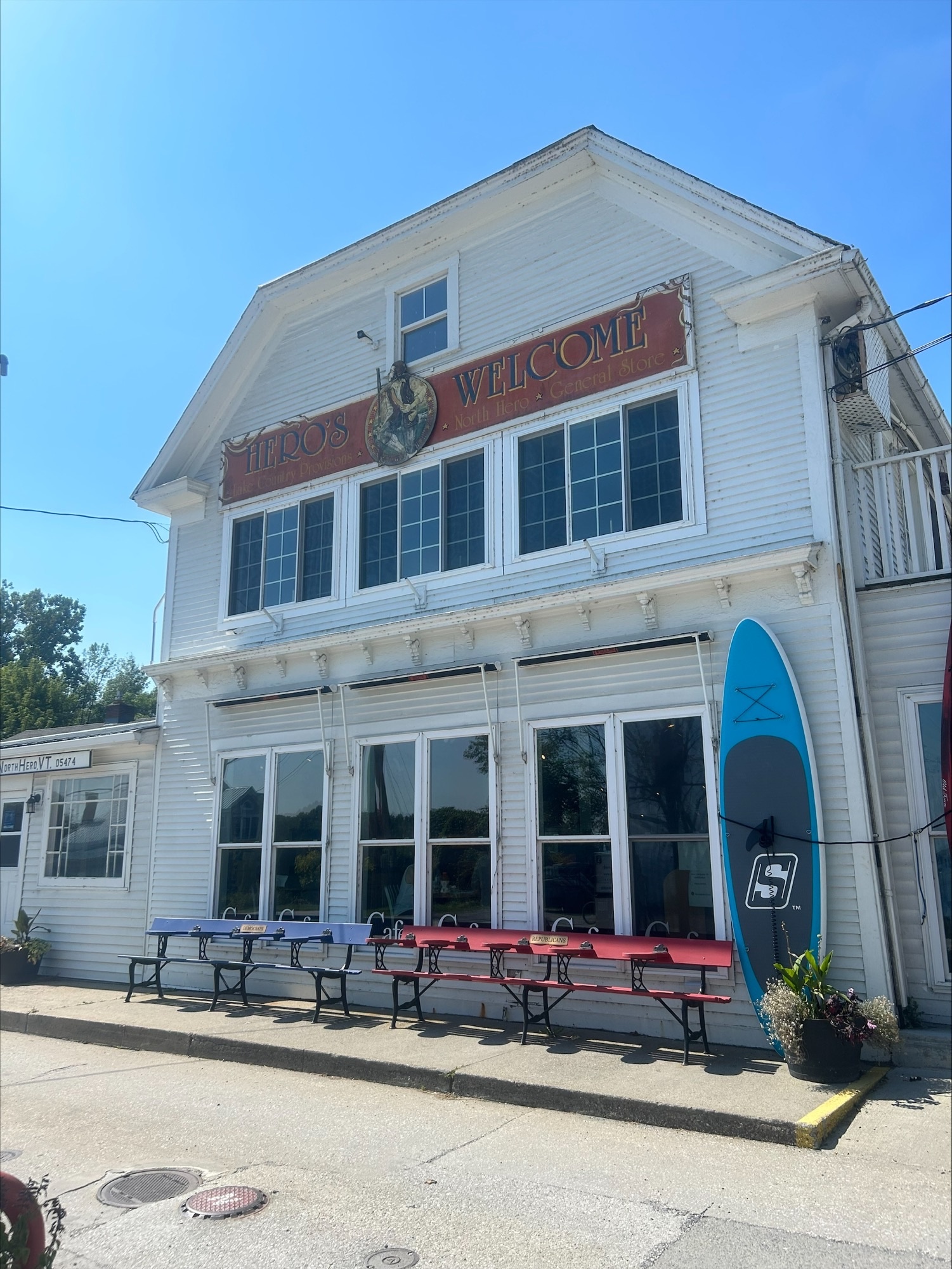 After loading up on homemade candy and filling my water I was back on a long flat stretch of pavement again. The weather that day was almost 90 degrees with not a lot of wind. I forgot how much hotter riding on the pavement with no shade is compared to dirt roads with a canopy of trees to protect you. In the 15 or so miles it took to get from Hero's Welcome to Harborside Harvest Market I had drank almost all three of my water bottles. So once again I had to stop and check out the next general store. Harborside was more of your classic general store. A variety of snacks and drinks, and great deli options, BUT what made my day was their chicken and waffle sandwich. With of course some maple syrup. After once again filling up my water I sat on the steps in the shade and devoured this incredible masterpiece of a sandwich.
Once again it's time to leave the sanctuary of the general store and jump on the hot pavement. Now at this point, I am 45 miles in. Here in the mountains if I were on a 45-mile ride with probably 4,500ft of vert my legs are feeling it. I wasn't feeling that same strain at this point in my ride. My legs felt good and the miles were coming easy. Pavement and no hills are kind of nice I'm realizing. Now I am not saying I would trade a good class 4 road for pavement but having a nice buttery smooth road every once and a while is kind of nice.
I am now at mile 60 heading towards Isle La Motte and getting hungry and thirsty again. So I make a detour over to Kraemer & Kin Brewery. These folks are located at the Alburg Golf Links golf course. Walking into this place I immediately noticed I was a bit underdressed and definitely the sweatiest person at the bar. My mind was set at ease with the friendly staff and a strong IPA. Sitting out on the deck while eating my BLT I got to look over the golf course with the lake in the background. Stop in if you get a chance, no matter how sweaty you are.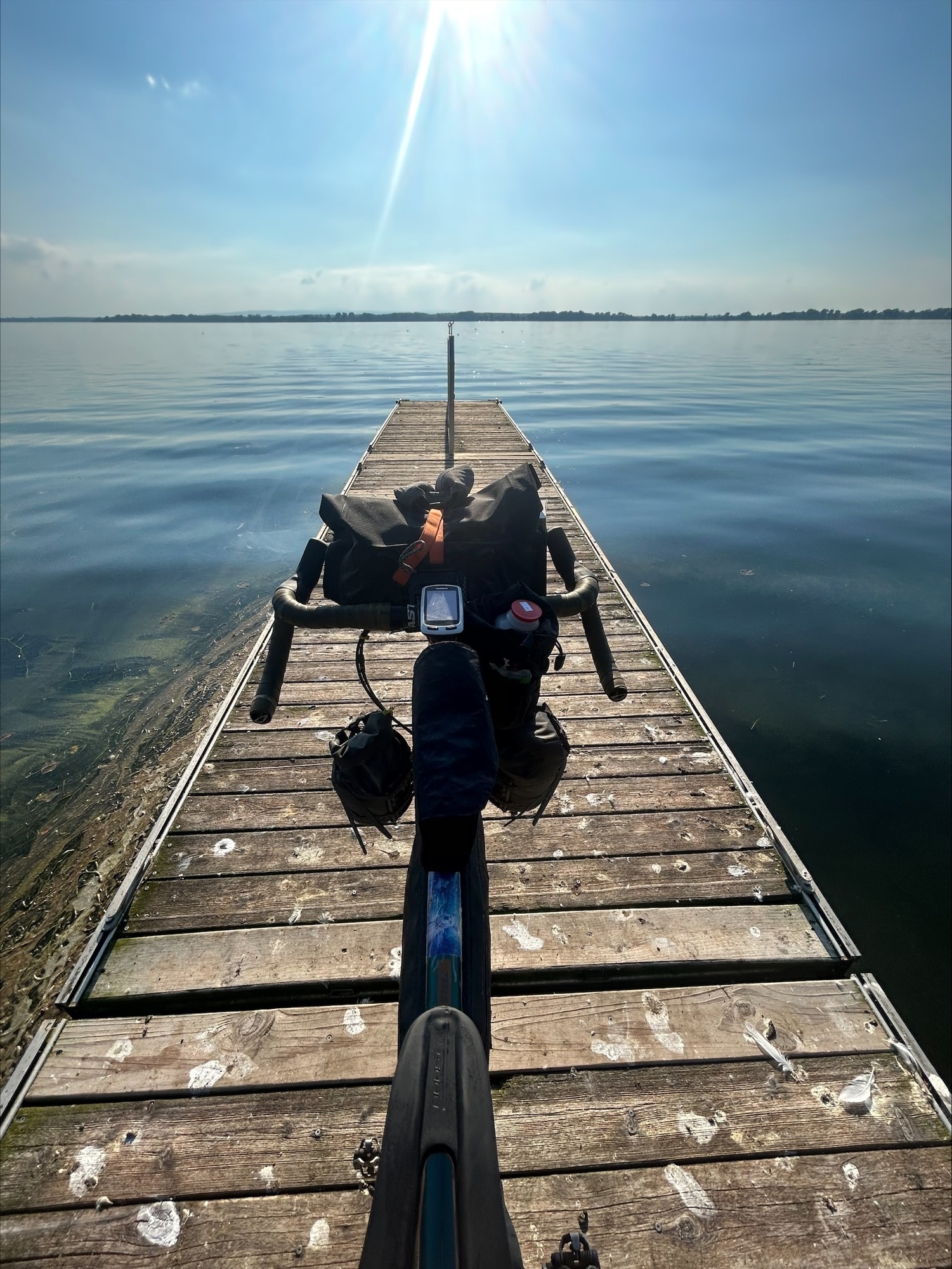 The Isle La Motte part of the trip was by far my favorite. The roads were quiet and winding, and it had a bit more of that "island feel" I was looking for. Stopping by the St Anne's Shrine was very informational, and if you like a good history lesson put it on your list. It is 5 pm at this point and the sun's heat is starting to cool down behind some clouds. I find myself in a sort of trance while cruising down these coastal roads with not a car or person in sight. I come to my next POI the Fisk Quarry Preserve. This was a flat open rock slab I was able to bike around and check out some of the old quarry holes. After filling my history cup it's time to get one last resupply and head to camp.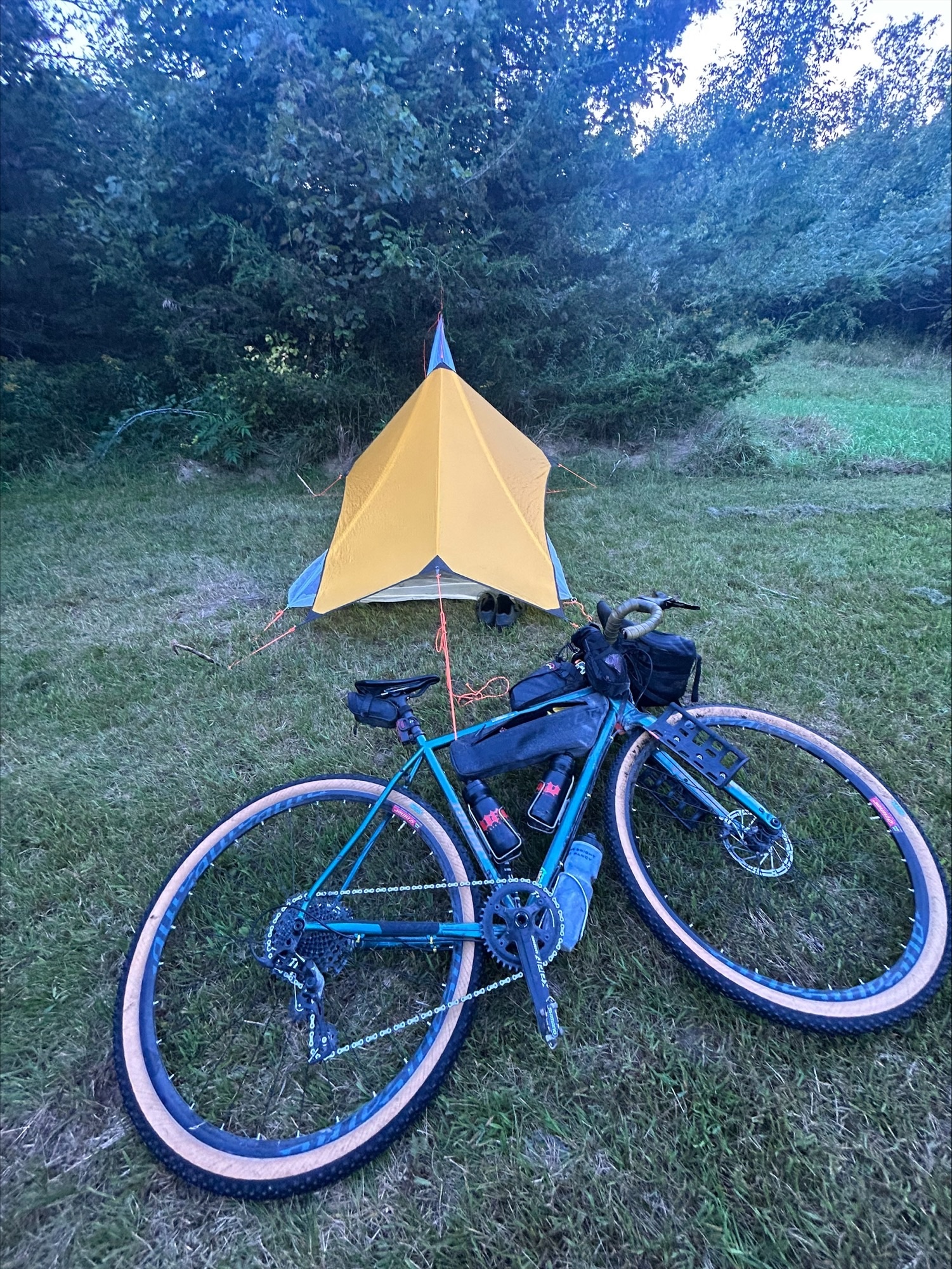 I found a campsite using the Hip Camp website. It was a great little spot, easy to find, and close to the Isle La Motte general store. After setting up camp and surveying the land I crawled into bed with a good book. The weather was perfect but the bugs were horrendous. While trying to fall asleep I could hear the mosquitoes trying viciously to break through the bug net. That night I did my normal tossing and turning while camping but slept a lot better than anticipated. I was more tired than I thought. The next morning I woke up around 5:30 am, put some instant coffee in my cold water, slurped that down, and started breaking down camp. Back on the bike by 6:30 a.m.
The morning was off to a great start down a quiet dirt road along the coast. With a little bit of cloud cover and a small breeze, the temperature was very pleasant compared to the day before. My first POI was Alburg Dunes State Park. The gates were closed when I arrived, but with a silent nod from an employee, I took that as "Come on in buddy" and rolled around the gate. I had the place to myself. The dunes truly did have an Island feel to them. I took some time here to finish my cold instant coffee and admire the scenery.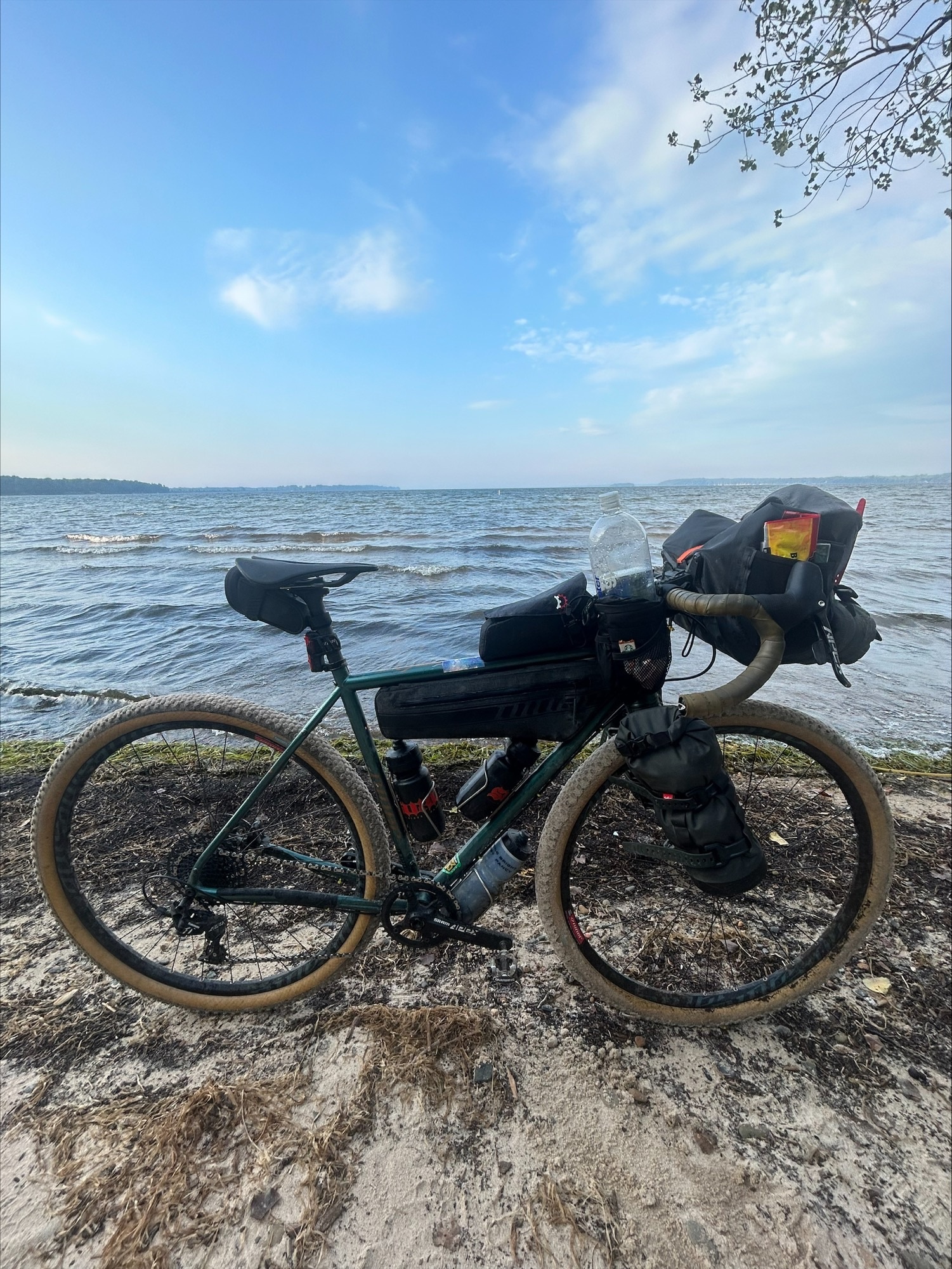 The next 20 miles of the trip were mostly roads I had been on the day before and a lot of pavement. My legs were feeling fresh and my spirits were high. So I decided to put my head down and give a big push to the next stopping point. Once again with not a lot of hills and some clean roads, the miles came quickly. My view mostly consisted me staring at my top tube where I had a picture of my dog Lou.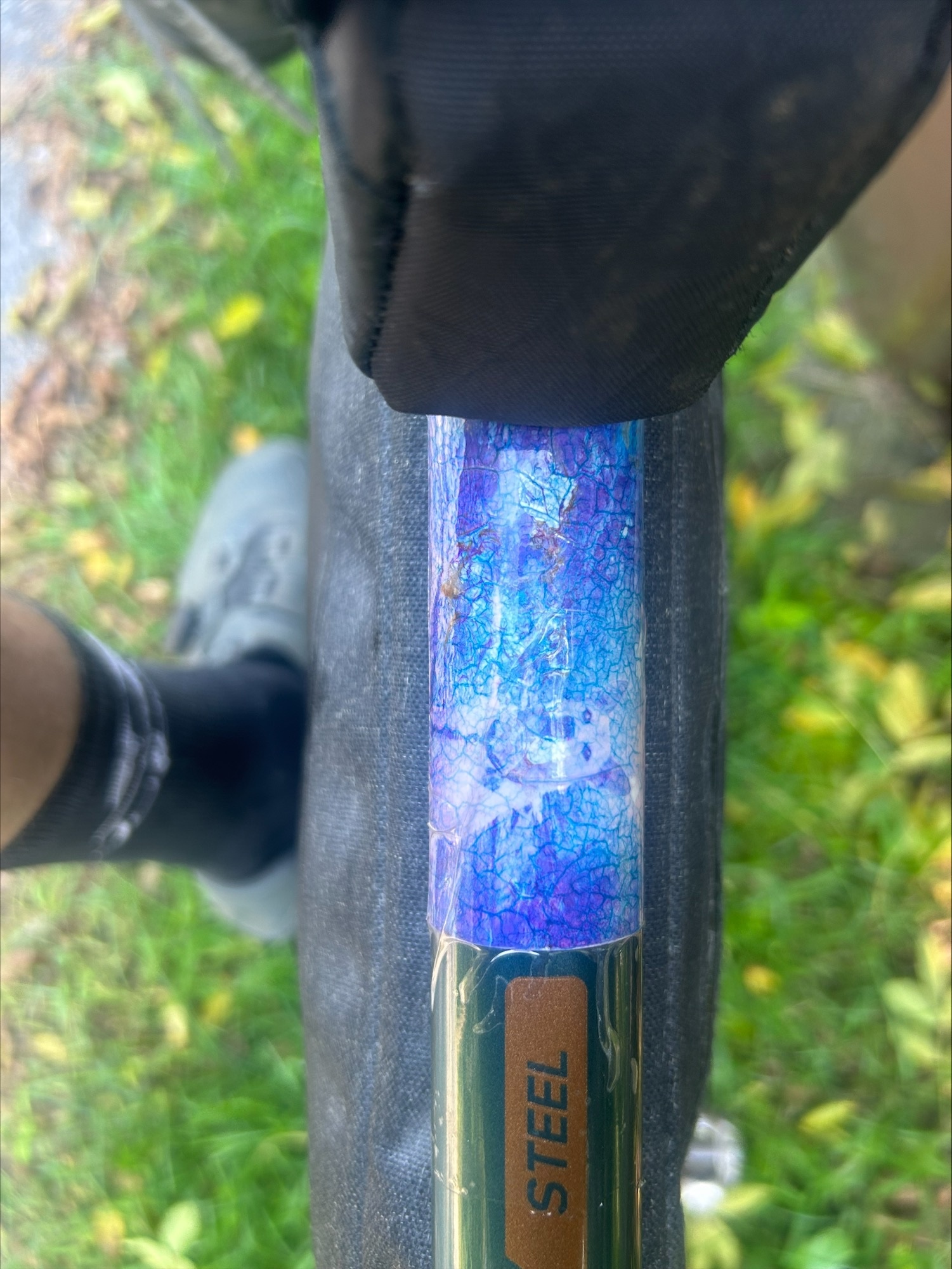 At mile 19 I pick my head up and start looking for DonnaSue Bakes+Cooks. This place was recommended by some friends. Thank you, Angie and Craig. This place has all your sweet tooth needs. They have pies, woopie pies, fudge logs, cold brew coffee, and water refills. If I had more room on my bag I would have taken home at least 3 pies. This wife and husband-run stand is a must-stop if you're on the island. Donnasue and her husband are both born and raised on the island and their families have been there for generations. Lovely people. Make sure to say hi to the chickens while you're there.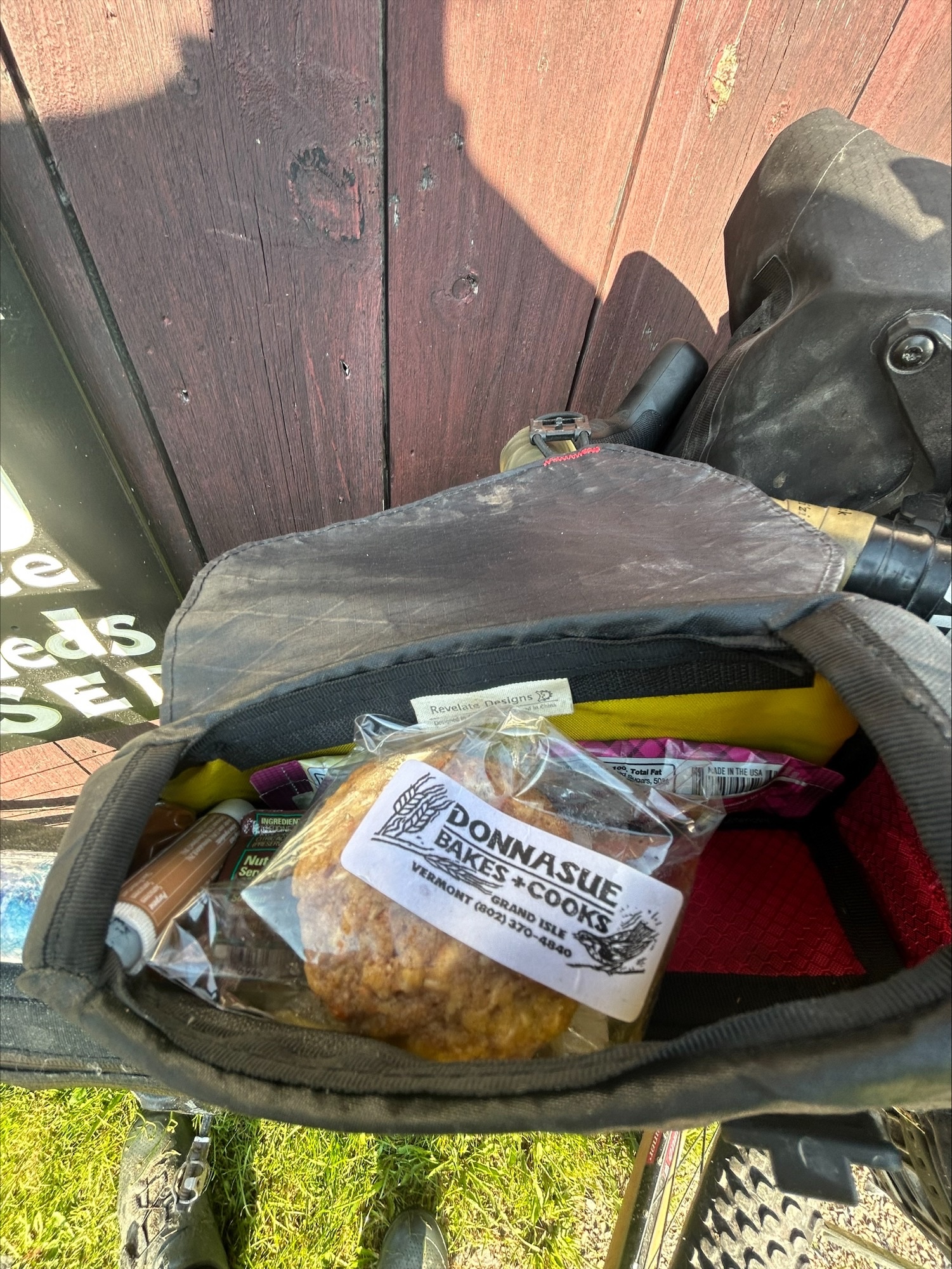 The next ten miles or so was one of the longer straightaways of the trip. On every ride I go on I always really enjoy looking at the houses. Growing up in the suburbs of MA where the majority of the houses look the same, I appreciate how Vermont has some diversity in design. I love the houses that work with the land to utilize their space instead of forcing it into something it's not. This stretch of road had some great examples of that. At the end of this stretch, I knew I was getting close to the finish line but there was also one of the more anticipated POI of the trip.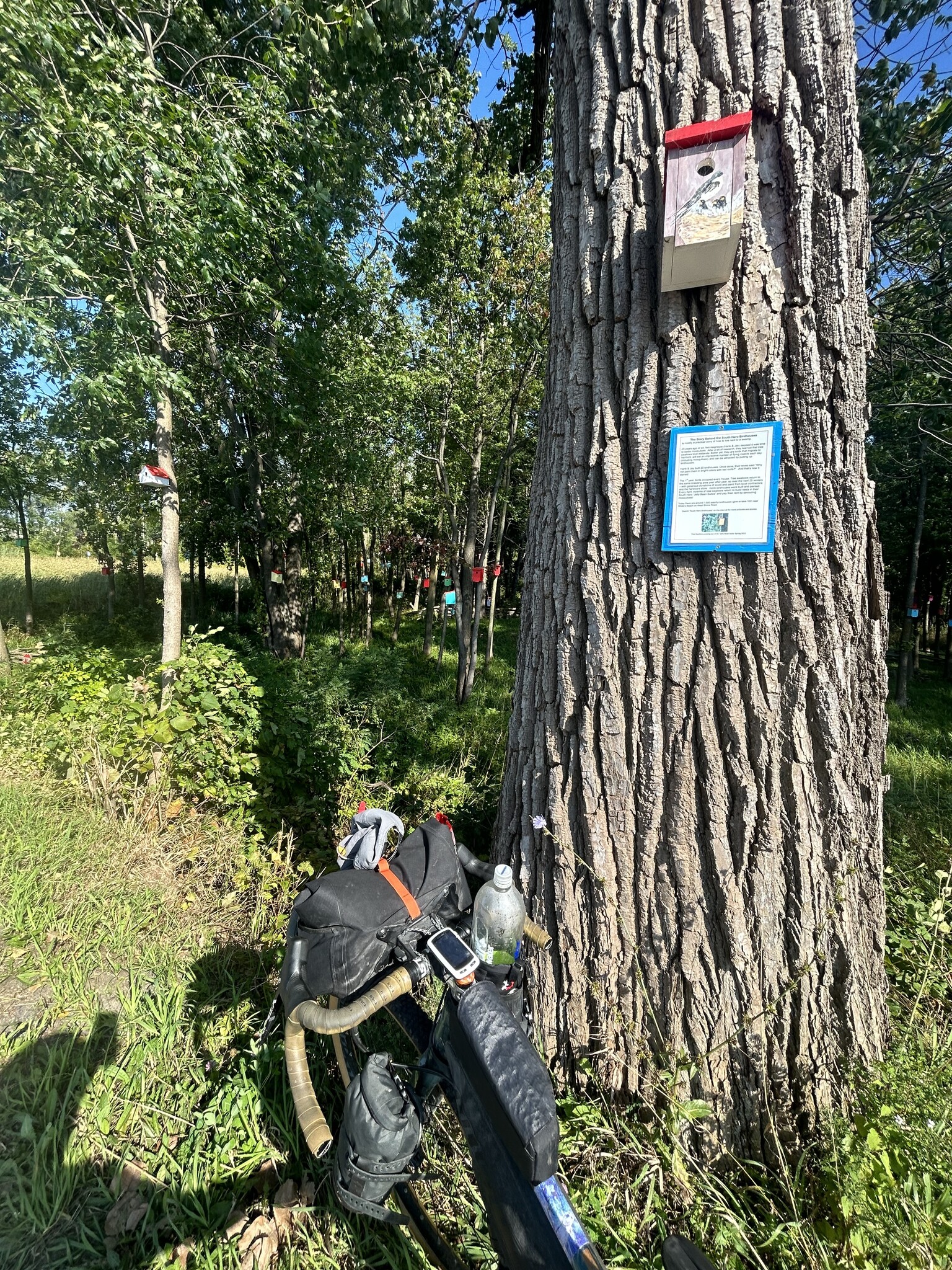 The birdhouse forest was wild to see. It is exactly what the name implies. Hundreds of birdhouses with red roofs were everywhere along the road and deep in the woods. The quick story of how this place got started is two neighbors got fed up with all the mosquitoes each summer, so they started brainstorming. In their research, they found that tree swallows loved eating those blood-sucking buggers. So their first summer they built a dozen or so birdhouses all with red roofs. The houses got rented out very quickly and the tenants paid their rent with labor, the labor of keeping the neighborhood bug-free. Year after year more houses were built and materials were donated by local businesses. It is quite the site to see and a great way to wrap up the trip.
Back across the cosway I go and ending my island vacation like I started it. I had such a great time going to an area I had never been to before. Riding terrain I don't normally ride. Seeing this all from behind my handlebars. There is no better way to explore a new area in my opinion. It allows you to see this a little bit slower and stop into places you might normally blast by in your car. The moral of this trip report is that you should get out there and explore our Vermont Island for yourself. Even if you have been out there before I bet you can find a new road to go down. 
If you have made it this far in the post thank you for reading and remember bike fast, take chances, and stop to smell the coffee.
Cheers,
Robby