Specializing on Getting You Back on the Snow ASAP!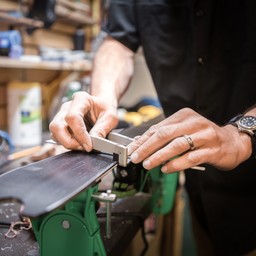 Ski Tuning Rates
Green Circle Tune-Up: $49
Edge Work including hand file
Buff Wax
Blue Square Tune-Up: $59
Edge Work including hand file
Minor P-Tex Base Repair
Buff Wax

Black Diamond Tune-Up: $69
Most Serious Base Repairs
Hand Beveled Edges
Ironed-in Wax

Nordic Tune-Up: $40
Nordic Skis Only
Resurface & Hot Wax Tips & Tails of Waxless Skis
Silicone treatment of Waxless Pattern
Resurface & Hot Wax bases of Classic and Skate Skis
Binding Mounts & Other Work
Alpine Touring or Telemark Mount: $65
Alpine Mount: $45
XC or Light Backcountry Mount: $35
Zero Tolerance Mount (skimo race, quiver killers, etc...): $90
Inserts: $10 per hole
Skin Cutting: $30
Binding Adjustment: $25
Binding Test: $35
Base Weld: $40 per weld
*Covid-19 Update:
Our mounting and tune-up shop is still buzzing, and we're happy to get your gear back into great shape.  To help us, please plan to pay when you drop your gear.  When you arrive to pick up the goods, please stay in your car and call us at 802.253.4531 and we will drop your gear off to you in covid curbside fashion.  If you need to shop and grab a few things, or if you need to learn the particulars of a new binding that's OK...come on in and we'll get you sorted safely and efficiently.