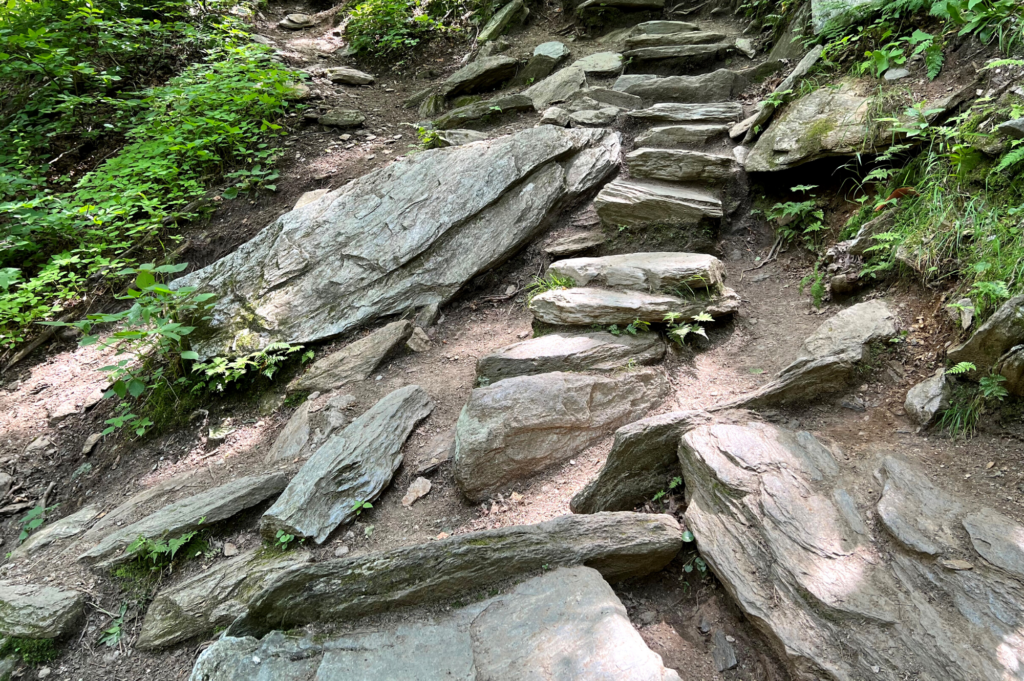 August, 23rd:
We have had a streak of 2 straight dry days in a row with sun, a welcomed feeling as summer starts to wind down.  Although more rain is in the forecast in the coming days, it's not a heavy rain or soaker that we have been experiencing all summer long. 
With all of these wet conditions we have had, we have had curve or alter much of our regularly scheduled bike, hike and swim plans.  But let's focus on the hikes for now.  Its that time of year when the colors are starting to change up high, cool summits now greet us and the ski stoke starts to fire about the up and coming winter.
A lot of the popular hikes around here take place on or off the infamous Long Trail that runs along the spine of the Green Mountains from the Massachusetts line to the Canadian border. Here in Stowe, access to the Long Trail from the Smuggler's Notch side is one of the easiest and most popular ways to summit Mt. Mansfield and it's surrounding great hiking trails.  
Because of the intensity of the rain events that we have had, the Long Trail has incurred severe erosion in parts, particularly prevalent on the older trails.  When the Long Trail was constructed over a century ago, most of the trails were built straight up, meaning when it rained, (Especially 7" at once that we experienced in early July) there was only one place for all of that water to go, straight down.  This turns trails into stream and river beds when it rains hard or consistently.  Also, because some of these trails are so popular, exposed roots and rocks where vegetation once lived makes deep gullies in the trail and eventually widens them and keeps mud and standing water there for longer.
When you do go for a hike and come across muddy spots or sections of the trail, please walk through the middle of trail, not around as this also widens the trail.  And if all possible, use the rocks that are on the trail if they are not too wet and slippery.  Stepping from rock to rock helps minimize trail damage, not to mention it keeps your hiking boots in better condition. 
Additional armoring with rock and extra trail work has been needed to help bring back some of these trails, with all of the effort and work being done largely by a volunteer base.  Volunteers have been the backbone of the Green Mountain Club for more than a century.  Without their time, energy, and knowledge, these trails would not exist or be managed as they are today. There are dozens of ways to get involved both on and off the trail. Consider volunteering if you have the time and give back to the trails that give you so much pleasure and joy each and every year.
Pictured: Sterling Pond Trail
Where all of those rocks have a purpose and plan