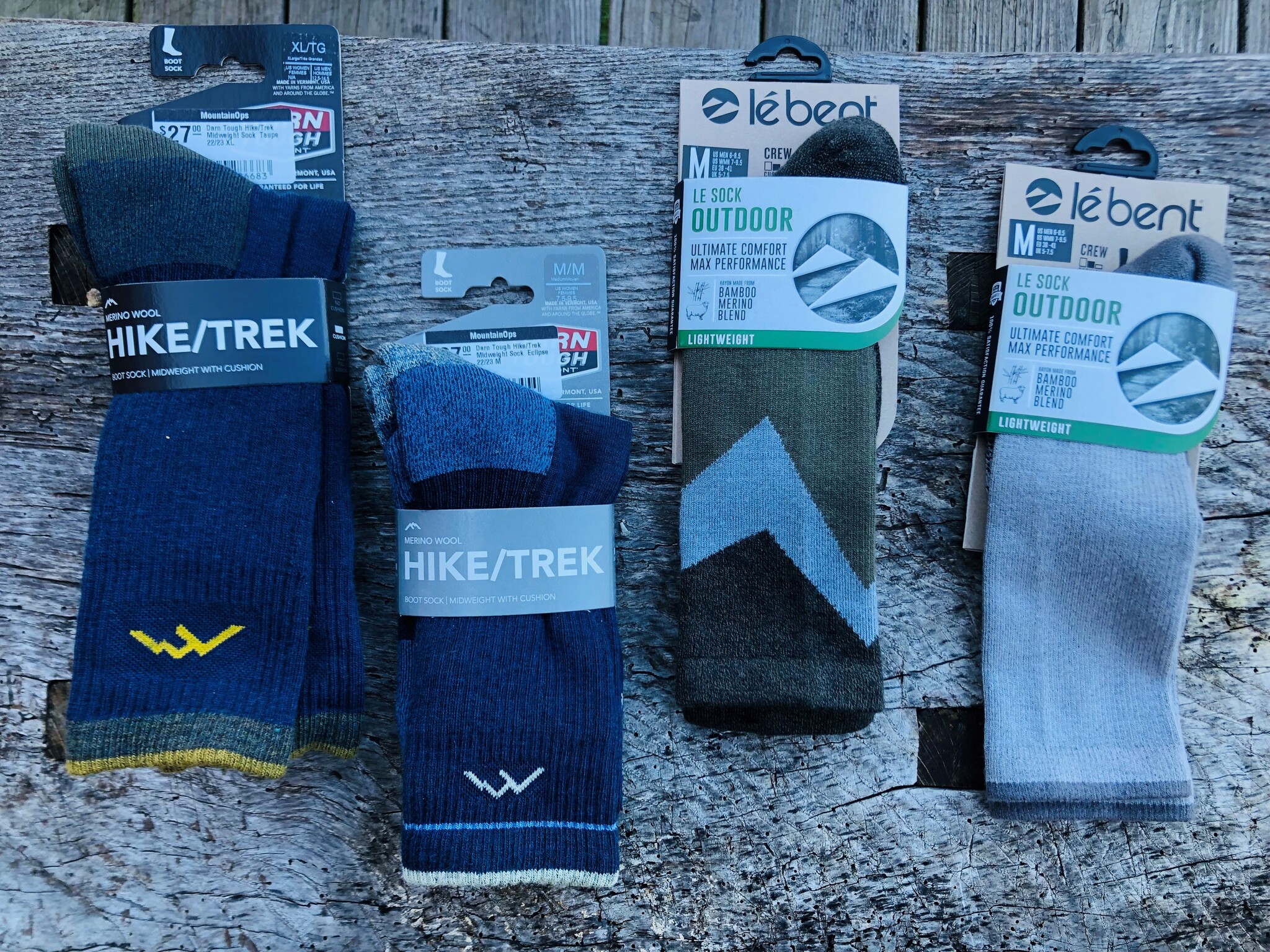 Socks for Hiking
With fall right around the corner, its that time of year to start getting your hikes in.  Its a great way to discover the high peaks and is another great way to get your legs in shape for ski season.  Before you head out on your next hike, lets talk about the socks you choose to use on your next adventure.
It's certainly the little things that mater when it comes to hiking, and one of the most overlooked items that can make or break your hike is your feet, particularly your socks, which can help keep you blister free.  For the best hiking socks for your next adventure, it's important to consider these three things: Sock height, cushioning fabric and fit.
Let's start with sock height. The right height socks protect you against abrasion with your footwear and your surroundings.  There are actually 4 sock heights that are currently available on the market today, no show, Ankle, Crew and Knee-High.  For the best protection and all-around use, we are only recommending two, which is the crew and knee-high length that we carry here at the shop.  No show and ankle lengths really work best for running shoes and light hikers, which is separate category of socks that we do carry for our selection of running and trail running shoes.  That will be a separate review.
For crew length, this the classic length for a hiking sock.  Crew socks typically land above your ankle bones and protect against abrasions from your boots that have high cuffs.  You can wear a crew with any low-cut boot or shoe too, it just provides extra coverage from scrapes, cuts, ticks and forays with branches or underbrush. 
Knee -high lengths protect against abrasion that big, burly boots can cause around your shins and your calves.  The coverage can also help keep you warm when temperatures drop off, like in the fall time.  You will also find that most compression socks only come in this length.
Next would be cushioning, which is the amount of cushioning that affects warmth and comfort.  There are 3 types cushioning also found in hiking socks.  Light, medium and heavy weight cushioning.  Light cushioning are designed for use in hot weather.  They are very breathable and prioritize moisture wicking comfort over warmth.  They are relatively thin but have some light cushioning in key places like the heel and ball of your foot, those areas that are most prone to getting blisters. Medium provides a good amount of cushioning in the heel and ball of the foot and are warmer for moderate to cold conditions.  Heavy cushioning are generally the thickest, warmest and most cushioned socks available.  But they are often too warm to use in the summer time as they will promote the most moisture and sweat and don't breathe as well.
Now we move on to fabric. Most hiking socks use Merino wool as their primary ingredient, but some are made from Polyester and Nylon or Wool, Silk or Spandex. Wool is the most important material for hiking socks.  It regulates temperature the best and helps prevent your feet from sweating and provides the best cushioning.  Another plus to Wool s that it's antibacterial and retains odors less than synthetic fibers.  Merino Wool is also itch-free compared to standard wool.  Most wool socks use a blend of wool and synthetic materials that's offer better durability and faster drying capabilities too.  
Polyester is a synthetic material that insulates, wicks moisture and dries quickly.  It is often blend with wool and nylon to create an excellent combination of warmth, comfort, durability and fast drying.
Nylon is another synthetic option that is often combined with wool that offers durability and good drying capability as well.
Silk is a natural insulator, and is light weight and very comfortable, but not as durable as the other materials that we have talked about. 
Lastly, there is Spandex, which is also used a combination material with wool that helps the sock keeps its shape through its elastic material and will also help keep your sock from bunching up and wrinkling.
The last sub-category we will talk about is fit, which will help in fending off blisters.  Getting socks that fit right will help keep your feet comfortable. If your socks are too big, they can have wrinkles that will rub and may cause a blister. Too small and they can create pressure points and sock slippage. Once you know your foot size, use that number that correlates with the size chart on the socks packaging.  If you are between sizes, size down to avoid excess material that can bunch up and cause blisters.  Your socks should fit snugly around our foot, but no overly tight.   A sock fits properly when the heel cup lines up the heel of your foot.
Never thought socks were so complicated and detail oriented?  It surprised me too at first. But it is very important to make sure you go by the three rules of thumb when choosing your socks (Height, cushioning fabric and fit) along with pairing them with the right kind of hiking boot for the adventure at hand.  If you do these proper steps, your feet and your and legs will thank you mile after mile.